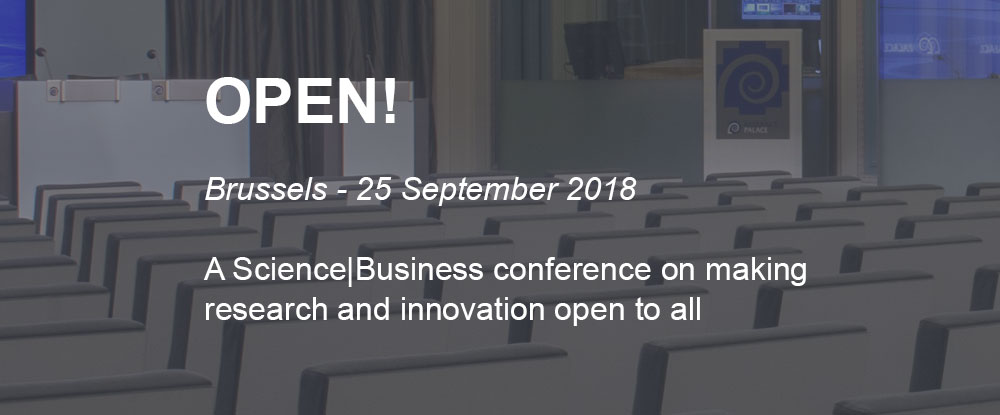 US Internet pioneer Robert Kahn, speaks out on the future of the Open Internet
Science|Business, which brings together industry, research and policy makers to discuss and drive breakthrough ideas and innovation, invites you to a high-level OPEN! conference on how to make research and innovation open to all. It will be held in Brussels on the 25th of September 2018.
The ATTRACT Project, a new model for Open Innovation in this new 'Internet of Things', will be announced at the conference. Led by some of Europe's top laboratories and business management experts, the ATTRACT Initiative provides a seed fund of €17 million for breakthrough ideas in detection and imaging technologies. The project will deploy a unique European innovation pipeline and improve the return on scientific investment in one of the most promising areas for future scientific, business and societal applications.
Focusing on practical solutions, the event will provide insights on the future of open and free scientific information in an age of rising political and trade tensions, and anti-democratic moves to limit openness.
In his keynote speech Robert Kahn, known as one of the "fathers of the Internet" and initiator of the Information Super Highway, CEO & President of the Corporation for National Research Initiatives in the USA, will lay out what needs to be done to keep the web open for all, as it makes the next leap forward in its development.
Others, including CEOs of leading research institutes and technology companies, as well as policy-makers from Europe, the USA and Australia will discuss how to promote scientific openness in the Cloud, publishing, international relations and other domains.
Check the Programme | Speakers of interest to the media
Speakers of interest to the media include:
Jonathan Wareham – Project Consortium Board member, ATTRACT
Antoine Petit – President, CNRS
Dan Nica – Member of the European Parliament
Kamila Markram – CEO, Frontiers
Christian Ehler – Member, European Parliament
Godelieve Quisthoudt-Rowohl – Member, European Parliament
Practical information
The conference will be held on the 25th of September at Residence Palace, Rue de La Loi 155, Brussels from 2 PM to 6:15 PM, followed by a reception.
For further information and interview requests, please contact: Virginia Mercouri, Media Adviser, Science|Business, Tel.: + 32 489 095 044, virginia.mercouri@sciencebusiness.net.
Science|Business, which brings together industry, research and policy makers to discuss and drive breakthrough ideas and innovation, invites you to a high-level OPEN! conference on how to make research and innovation open to all. It will be held in Brussels on the 25th of September 2018. The ATTRACT Project, a new model for Open Innovation in this new […]