How can sensor and imaging technology (that may yet to be invented) help solve societal challenges? This was the main question that a group of 55 young people from 15 countries tackled during the first #AttractYoung Hackathon held at the AREA Conference Hall in Trieste, Italy.
The participants were mainly students, who were not necessarily familiar with detection and imaging technologies but who shared the same concern for social and environmental issues and strongly believed that solutions lie in creativity and innovation.
With the help of a coach and a detector expert, ten interdisciplinary teams worked intensively in a two-day stint. After all the groups had taken part in team-building exercises using the Lego bricks methodology, the hacking began!
Focusing on topics such as alternative energies, access to culture and education, anti-personnel mine detection, social inclusion, health, food safety, sustainable mobility, and water (among others), the teams worked on their proposals and prepared their pitches.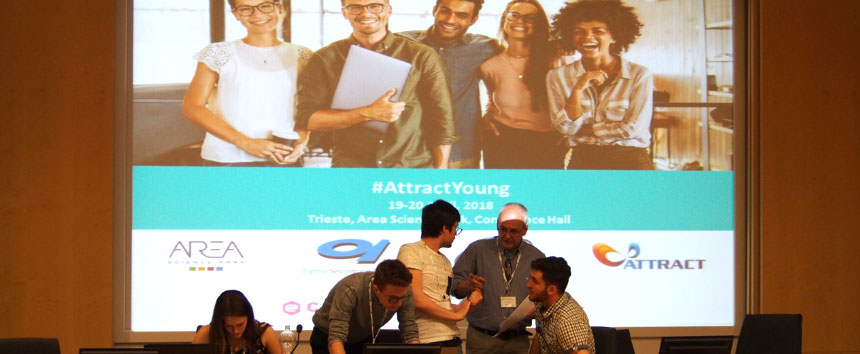 The winners of this first edition were 'The Silencers' team, for tackling the challenge: 'Silence as a sound profit'. They proposed transforming the noise pollution of cities into a source of energy using a specialised sensor. The use of this technology will not only reduce noise pollution and generate energy but will also improve the quality of urban life, health, and boost property values.
The prize was an all-expenses paid, five-day visit to CERN (European Organization for Nuclear Research in Geneva) and to ESRF (European Synchrotron Radiation Facility in Grenoble) to further brainstorm on their ideas.
#AttractYoung, the first hackathon promoting social development through technologies, was a great success and led to the drawing up of a list of societal challenges that could potentially fall within the ATTRACT Initiative's funding scope.
#AttractYoung hackathon was the 4th in the series of ATTRACT "Trends, Wishes and Dreams (TWD)" symposiums.
Organisers
How can sensor and imaging technology (that may yet to be invented) help solve societal challenges? This was the main question that a group of 55 young people from 15 countries tackled during the first #AttractYoung Hackathon held at the AREA Conference Hall in Trieste, Italy. The participants were mainly students, who were not necessarily […]